ADDITIONAL SERVICES OF THE SANSSOUCI COMPLEX
LITTLE THINGS MAKING YOUR STAY MORE PLEASANT
The Spa Resort Sanssouci merges a high quality of services in the accommodation, gastronomy, balneology a and congress services fields. However, the beauty and luxury is in the details. That is why the Spa Resort Sanssouci also provides many other services which will make your stay more pleasant.
The Spa Resort Sanssouci offers not only transfers from the airport to the hotel and back, but also to other interesting places throughout the Czech Republic. Choose a transport mean you prefer, or according to the number of persons in your group.
The hotel transfer prices apply until 14 March 2019 and are shown for 1 car and 1 to 3 persons:
Karlovy Vary Airport - Spa Resort Sanssouci or back way
  30 €
Prague Airport - Spa Resort Sanssouci or back way 
120 €
Prague downtown area - Spa Resort Sanssouci or back way
140 €
VIP Transfer – Mercedes Benz S-Class
Karlovy Vary Airport - Spa Resort Sanssouci or back way
  40 €
Prague Airport - Spa Resort Sanssouci or back way 
200 €
Prague downtown area - Spa Resort Sanssouci or back way
250 €
He will help you with your luggage at arrival and on departure, and lead you to your room. He will listen to your questions and requests, will give advise, and help where he can.
Secretary service, suniversal office
These services include faxing, copying, and document printing. Internet access is not only ensured in rooms, but also in the business center.
Children's cornermodern- furnished playroom
Your children can enjoy themselves by playing social games or watching TV, movies, and fairytales on DVD.
Baby sitting, qualified baby sitting
With our baby sitting services, your children will receive highly qualified care. The price depends on the scope of the service.
The guests accommodated in the Spa Resort Sanssouci can use this line for transport from Sanssouci to the spa zone all the way to Císařské lázně (Emperor Spa) or in the other direction to the Varyáda shopping cente
If you want to explore on your own, our concierge will help you to rent a car.
You can order flowers, bouquets, and flower decorations for any occasion from our concierge. Our employees will prepare the flower decorations exactly according to your ideas.
Additional cleaning services
Besides the standard services, the cleaning service also offers laundry, ironing, and dry cleaning services. The price depends on the scope of the service.
Our Pentalog Tour travel agency. offers a wide selection of trips and excursions in Karlovy Vary (Carlsbad), the Karlovy Vary (Carlsbad) Region, the Czech Republic and abroad. More information on the Leisure time program page.
Early check-in and late check-out + luggage storage
The standard check-in at 2 p.m. and check-out at 12 a.m. can be altered upon agreement with the reception desk. This service includes luggage storage.
Late Check-Out: extra charge 50% of hotel accommodation rate for 1 night after prior settlement.
You can exchange money in the hotel reception pursuant to the current currency exchange rate.
Maybe you do not want to leave your pets at home while you are enjoying your vacation? Bring them with you. Accommodation with pets is possible upon advance agreement (for a fee) when making the reservation.
Pool complex - nice relaxation
Besides the pool, hotel guests can also use a whirlpool, sauna, steam spa, and Kneip's pavement for free The pool features attractions such as water-guns, air, and massage jets.
Beauty services - beauty and style
In your free time among procedures, walks round Karlovy Vary, trips, and sports activities you may use a wide offer of beauty services at the local beauty parlour. Beautifying procedures are not meant only for women any more. Even men can let pamper themselves.
Hair stylists will create hairstyles on request. They will advise you on hair care and recommend suitable hair care products from the luxury L'Oreal hair products line.
Sothys Paris professional salon cosmetics introduces treatments for complete skin and body care. This treatment is based on salon facial and body together with an exclusive Digi-Esthétique massage. www.sothys.cz.
Perfectly finished nails are not only a good image for modern women, but also for men. The local manicure specialists will take care of a cultivated appearance of your hands using the world famous cosmetics ORLY and OPI.
A quality pedicure does not only mean the improvement of the appearance of your feet, but also of their health. Our pedicure specialists will treat blisters, sore spots, and other damage caused by shoes using the brands ORLY and OPI.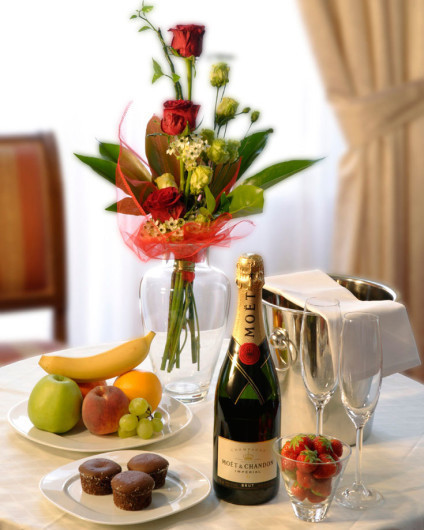 Hotel sets
Embrace your stay in the Spa Resort Sanssouci in style and order one of our hotel sets for yourself or your company. Arriving at our hotel after a tiring trip, you will appreciate the privacy of your room where you can savor a glass of excellent sparkling wine or champagne and fresh fruit...