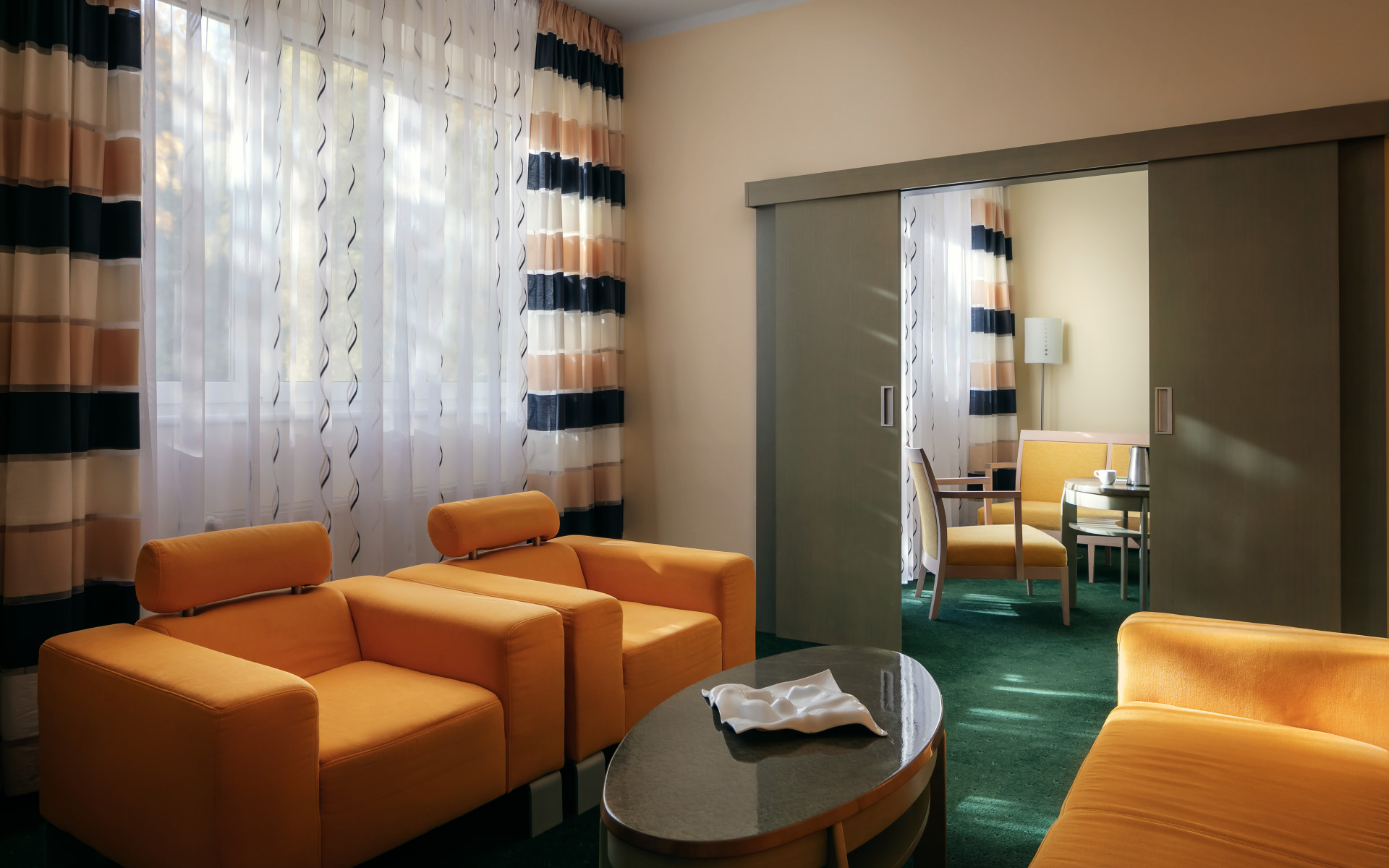 SPA RESORT SANSSOUCI
Hotel sets
Embrace your stay in the Spa Resort Sanssouci in style and order one of our hotel sets for yourself or your company. Arriving at our hotel after a tiring trip, you will appreciate the privacy of your room where you can savor a glass of excellent sparkling wine or champagne and fresh fruit...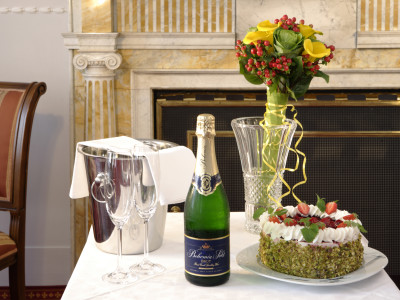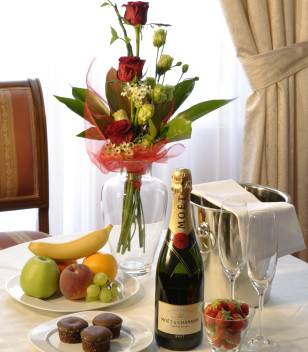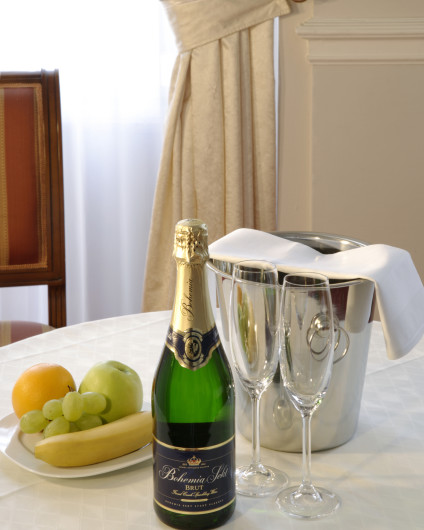 BRONZE WELCOME SET
If you want to celebrate your arrival at the Spa Resort Sanssouci with style, let us prepare a bottle of chilled sparkling wine and a fresh fruit platter in your room. All you have to do is to choose the Bronze WELCOME SET when making your reservation.
Set includes:
Sparkling wine - Bohemia Brut (0,75l), Fruit plate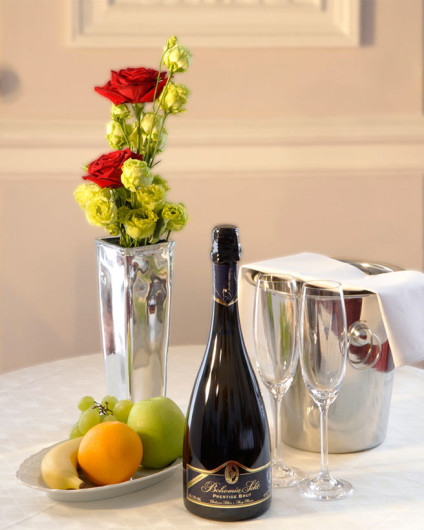 SILVER WELCOME SET
A fresh fruit platter, flowers and a bottle of the Bohemia Prestige sparkling wine will welcome you to your room if you choose the SILVER WELCOME SET.
Set includes:
Fruit plate, Flowers, Sparkling wine - Bohemia Prestige (0,75l)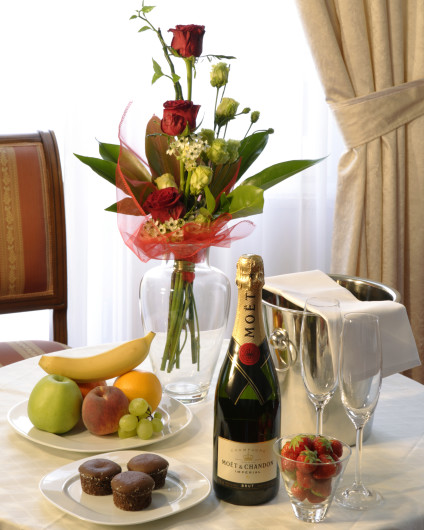 GOLD WELCOME SET
Reserve the luxury GOLD WELCOME SET for your company and yourself. Immediately on your arrival you will be served chilled MOËT champagne with strawberries, fresh fruit and scrumptious sweets topped with fresh flower decorations.
Set includes:
Champagne Moet (0,75l) with strawberries (10 pcs), Fruit plate De Luxe, Homemade sweets, Flowers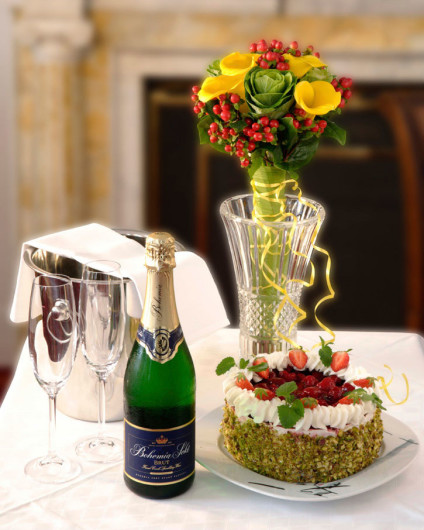 BIRTHDAY SET
Are you coming to the the Spa Resort Sanssouci around the time of your or your company's birthday? We can arrange a special birthday welcome comprising a bottle of sparkling wine, cake and flowers.
Set includes:
Sparkling wine - Bohemia Brut (0,75l), Cake, Flowers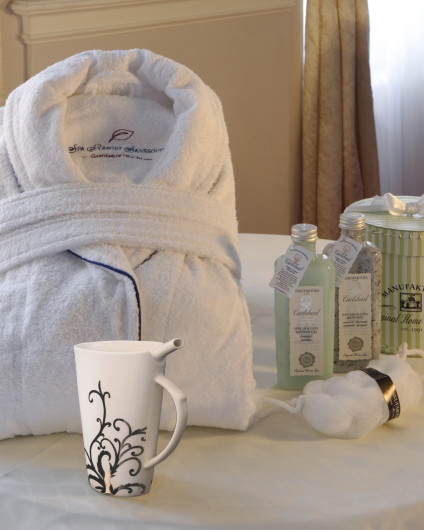 SPA & RELAX SET
Buy a Spa & Relax package and gift your loved ones or take it home to keep a keepsake of your spa or wellness stay. Treat yourself and enjoy quality cosmetics, luxury spa gown and a gown decorated with a Spa Resort Sanssouci logo.
Set includes:
Bathrobe with hotel logo, cosmetic set, Spa cup Kala Argenta